Confoil Malaysia was established in 1994 as a Malaysian controlled joint-venture with Confoil Pty. Ltd.,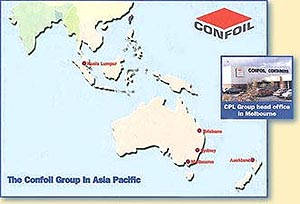 a leading Australian company with over thirty years of experience in manufacturing aluminium foil containers and associated products such as foil and film wrapping, pressed ovenable board trays, and food display cabinets.The Confoil Group has operations in Kuala Lumpur, Melbourne, Sydney, Brisbane and Auckland.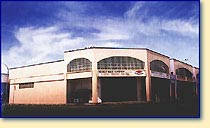 Factory & Warehouse
Our factory and warehouse is strategically located in the industrial area of Subang with easy access to major highways, the Kuala Lumpur International Airport and Port Klang. We are thus well placed to the serve not only the needs of our customers in Klang Valley but also throughout Malaysia and the Asian region.


Production & Quality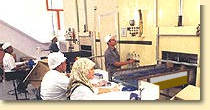 Our products are manufactured under a fully automated and properly designed production process featuring state-of-the-art press machines. To ensure the quality and suitability of our products for food use, we have a strict quality control regime on raw materials and finished products. We source our raw materials from suppliers of rolled aluminium equipped with pre-treatment, degreasing and continuous washing facilities, and the utilised foils are pre-fabricated with food grade oils in accordance with international norms. Aluminium foil containers are produced by high-speed press and air forming machines which precision-cut the container size and shape, and pressed to form by tools with tolerances of less than one hundred part of a milimetre. The finished containers are so light they are air flown from the press, stacked and packed.

Hygiene & The Environment
Being a supplier to the food industry, we have extremely strict hygiene regulations pertaining to raw materials, production facilities and employees during production. This is the only way in which we can guarantee our customers packaging solutions of the highest standards of hygiene.

We are sensitive to the environment and practice specific environment-sustaining measures, such as using new and thinner materials, economic production methods and using alternative materials which are less energy consuming. Our products are 100% recyclable and any wastage produced during our production process are collected and compacted into bales for recycling.
Home | Profile | Services | Products | Properties | Markets | Contact