Sales Support & Product Development


Our customers are served personally by our dedicated sales force which emphasise on developing close relationship and providing quick response so that decisions can be made efficiently and effectively. We offer thoroughly tested packaging solutions, customized all-in solutions, and concept development. Some of our product development solutions are as follows :
Perforations
Perforations (breathing holes) are designed to aid air circulation and prevent moisture build-up, which is especially important for pastries such as short-crust pastry and pizza dough.
Custom Containers
Our group's in-house technical expertise in container design and support from established toolmakers enable us to offer many different shapes and designs for the exact needs of our customer.

Embossing
Your products can easily be given an exclusive touch through a company name logo or slogan being stamped on the based of the container (or lid if it's an aluminium foil lid), at very little extra cost.

Protective & Coloured Coatings
A range of decorative and protective coatings is available to achieve different requirements, such as
• Barrier coating for high acidity foods
• Heat sealing and tamper-proof features
• Product or brand identification
• Decorative effects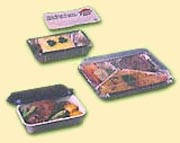 Lids
We offer a variety of lids to suit our customers' various requirements from high-quality printable whiteboard with foil backing for take-away / frozen foods, to aluminium foil lids for cook-freeze and regeneration capabilities, to clear plastic dome lids for a simple and effective presentation.
Warehouse & Distribution
Being located in Malaysia which is the heart of South-East Asia, we are easily accessible to food markets in Asia, thus offering our customers in this region the advantage of a shorter supply chain and lead time. Furthermore, we can offer further value added services such as "just in time" delivery to enable our customers to reduce inventory holding costs and enjoy the attendant benefits in stock control, administration and audit management.